How Fiverr Can Help You Start/Boost Your e-Commerce Business: The early months of 2020 recorded a corrosive presence of the covid-19 pandemic.
During that period, a lot of businesses experienced depreciation in regular sales — some were closed due to imposed lockdown and whatnot.
One of the businesses that thrived ridiculously in the horrible face of the pandemic, is the e-Commerce Business.
It's said that "opportunity comes but once," but the opportunity that e-Commerce offers is always within the reach of new and existing businesses — and it's lucrative, too.
No word would be perfect enough to explain how much the e-commerce business has deeply spread across over 70% of the world's countries.
Today, even a 3-year-old child can comfortably learn how to navigate the internet. So, one can also say that, on a daily basis, it's quite easier to buy and sell services and products online.
In this article, I will show you the step-by-step guide on How Fiverr Can Help You Start/Boost Your e-Commerce Business In The Most Affordable Way.
I know you're already curious asking the question, "what's Fiverr?"
I'll answer that question.
Fiverr is the one of the most accessed freelancing platforms that accommodate users of diverse skills and expertise. The seller would promise quality within the specified period of time and affordability.
Having given a sneak peak of what Fiverr is, let's delve right into the heart of this article — How Fiverr Can Help You Start/Boost Your e-Commerce Business.
How Fiverr Can Help You Start/Boost Your e-Commerce Business
Prefer To Watch A Video Instead? I Made One For You
The following are 7 ways on How Fiverr Can Help You Start/Boost Your e-Commerce Business.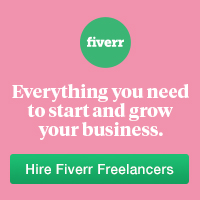 Start With A Plan
It's not about filling your head with thousands of ideas, the question is, "are you building a business plan around those ideas?" If your answer is NO, you should know that your idea needs business strength and one trusted way you can achieve that is by building a business plan.
Many e-commerce entrepreneurs don't go far because they neglect the stage of drafting a business plan. There are entrepreneurs who kick-start their e-commerce business with an incomplete mission statement; such can't serve as a business plan.
Market Research
You have thought about an idea. You, using the business idea, compose a business plan and because of the presence of these two, you float a small scale.
Is this an indication that one can extremely excel in the larger market?
Two things you need to validate your e-commerce business's future are expert opinion and market research.
There are professionals on Fiverr that can perform the market research your e-commerce business needs. Alongside getting a market research service on Fiverr, you could also get to find someone who can let you in on the MUST-KNOWs.
Develop A Website
It's important that e-commerce businesses have a website — it's a necessity. E-commerce has different kinds, each of which can't run without the aid of a website.
In the web development category on Fiverr, 2000 freelance experts are available to attend to you.
Just a hint, tech-savvy customers in the world today gets uninterested when a website is unattractive and not functional.
Do you want to create a new website for your e-commerce business?
On Fiverr, you can:
Locate professional and reliable web developers and designers.
Get wonderfully designed websites for an affordable cost.
Design A Logo
Are you a startup trying to enliven that idea? On the flip side, are you a business owner who desires to give his brand a different look in the digital world? If your answer is YES for either of the questions, then you need to consider getting for yourself a creative logo — something that matches your brand.
The idea of a creative logo dwells in the heads of most entrepreneurs, but they find it a herculean task to polish their creativity for designing a clean and digital logo.
Fiverr has countless graphic designers skilled enough to astound you with their designs.
Get Active On Social Media
Social media statistics from 2019 shows that the social media recorded, from all over the world, 3.billion users. Yes, you read that right. 3.5 billion users. The incessant increase in this number has almost pushed the percentage to 45% of the total population of the world.
You can outsource your social media marketing problems or jobs with Fiverr professionals. With Fiverr sellers, you're almost always assured of having a great buyer-to-seller experience — the seller's proficiency plays a role though.
Get For Yourself A Virtual Assistant
Through Fiverr, you can contact numerous virtual assistants who are ever ready and willing to carry out all the time-consuming engagements such as entering data, checking replies to emails, answering phone calls, documentation and many more.
As the founder of a successful e-commerce business, it's of no doubt that your hands are, most of the time, occupied with a lot.
Tough schedules and busy routines most times point your focus at bigger issues. Pressure and stress will be taken out from your daily activities when you hire a virtual assistant.
Go For Podcasting
A lot of people today have underrated the power of podcasts, as regards growing a business. Although the use of podcast to achieve business growth is rarely talked about, it's one of the surest ways to reach out to a target audience.
There are digital marketing tools that can be used to make podcast without errors.
The last time the year 2019 saw the value of the international podcasting market size was at 9.28 billion dollars. It's expected to record a CAGR (Compound Annual Growth Rate) of 27.5% from 2020 to 2027.
Introduce A Blog
If you're looking at boosting your presence in the real world as well as on the internet, then it's essential that you begin a business blog. Blogging isn't an easy endeavor; it requires skills, time and effort. Not all the startup businesses will be able to afford the charge of having a professional blogger to feature on their team.
The Fiverr marketplace contains thousands and thousands of writers that will do justice to any type of writing. As a content writer, having knowledge about SEO will fetch you more jobs and deals.
Fiverr, a marketplace of diverse expertise, can do you the favor of attending to all your needs as you strive to grow your e-commerce business.
YOUR NEXT STEP?
>>Start by signing up on Fiverr here or click the image below, after that, all you have to do is to search for the service you want, like "Ecommerce Website" "Logo Design" "Facebook Ads" and so on.

Thank you for reading, I hope this helps you start or grow or your e-commerce business in 2021.
Cheers to a better year.